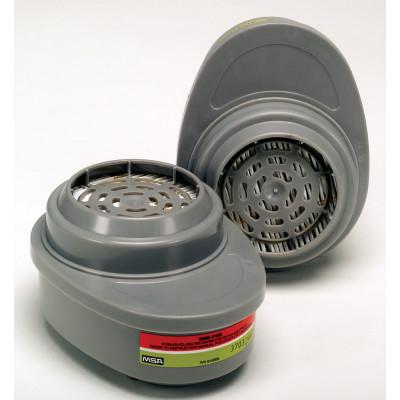 MSA Advantage® Respirator Cartridges, GME, P100, Gray, 815366
$ 40.75
Advantage line of particulate, chemical, and combination cartridges are lightweight, low profile performance
Cartridges fit both 200 LS Half Mask and 3000 Full-Facepiece Advantage respirators
Comfortable, lightweight protection
Self-adjusting crown straps
Consists of a polyethylene shell and suspension system working together as a protection system
Also fits 420 Half-Mask Respirators and 1000, 3000 and 4000 Full-MAsk Respirators
Pack of 2 PKG
Manufacturer part number: 815366
UPC Code: 641817011164
NIOSH Approved to 42 CFR Part 84
Specifications:
Color = Gray
Filtration Grade = P100
For Model = Advantage® Respirators
Quantity = 2 per package
Resistance = Organic Vapors; Chlorine; Sulfur Dioxide; Chlorine Dioxide; Hydrogen Chloride; Hydrogen Sulfide; Ammonia; Methylamine; Formaldehyde; Hydrogen Fluoride; Mercury Vapor
Type = GME
Usage = Contaminants
Used With = Advantage® Respirators
Wt. = 0.57 lb
This item is a non-stock item. Lead time may be upwards of 4 weeks.