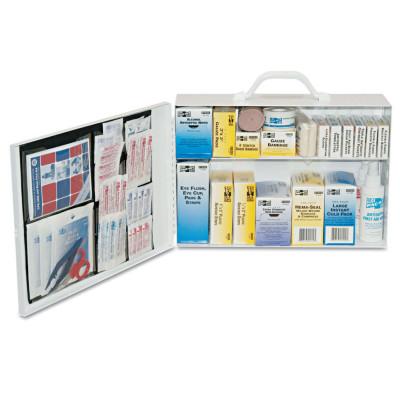 First Aid Only® 100 Person Industrial First Aid Kits, Steel, 6135
$ 162.15
Door pouch
Two shelves
Pack of 1 KIT
Manufacturer part number: 6135
UPC Code: 738743061353
Contents Exceed Requirements of ANSI Standard Z308.1-2003
Specifications:
Case Material = Steel (non-gasketed)
Height [Nom] = 11 in
Includes = Adhesive Strips 1 x 3 in; Adhesive Strips, 3/4 x 3 in; Adhesive Tape 1/2 in; Antiseptic Towelettes; Antiseptic Wipes; Aspirin; Burn Spray, 4 oz.; Cotton Tip Applicators; Elastic Bandage, 4 in; Eye Flush (4 oz.); Eye Pads (with strips); Fabric Fingertip Bandages; Fabric Knuckle Bandages; Fabric X-Large Adhesive Strips; First Aid Antiseptic Spray, 4 oz.; First Aid/Burn Cream Packs; Forceps; Gauze Bandage 4 in; Gauze Pads 4 in; Instant Cold Pack (large); Large Wound Pads; Latex Gloves; Scissors; Sterile Eye Cup; Triangular Bandage; Triple Antibiotic Ointment Packets; Wipe/s
Length [Nom] = 15 1/2 in
Usage = 100 Person
Width [Nom] = 4 3/4 in
Wt. = 10 lb
This item is a non-stock item. Lead time may be upwards of 4 weeks.